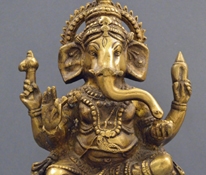 Sculpture
Studies of sculptural objects have been a consistent and prominent feature in my graphic work for years. A sustained interest has been focused upon Hindu and Buddhist sculpture. The symbolism, guiding philosophies and demanding processes utilized to create these objects are as fascinating as the works are beautiful. Studying and surrounding myself with this work consistently renews and expands my processes and working philosophies.
---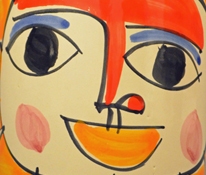 Ceramics
The bold colors, heavy use of line and playful wit that goes into making these lively ceramics share a strong kinship with my work. As a printmaker (and secret ceramicist) I appreciate the knowledge, technical skill and physicality the process demands. Encountering the visual delight of these objects through their everyday use fuels the creative impulse.

---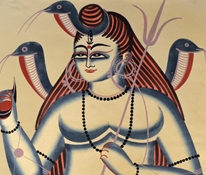 Painting
The cerebral space of painting has been intriguing to study and explore. I admire many genres, however the subject matter, symbolism and process utilized in Tibetan Buddhist thangkas and Hindu watercolors have absorbed my interest. The deep meaning in both the process and the object has been fascinating to explore as my work shares a similar emphasis.
---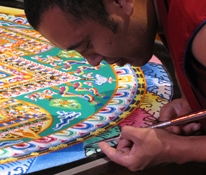 Travel & Rituals
Travel has provided the most profound inspiration for the studio. It has been an unparalleled education that continually alters perspective, garners experience and recharts the future. In a similar vein, attending rituals and significant cultural events have provided enlightening experiences that fuel appreciation for symbolism, method and execution.